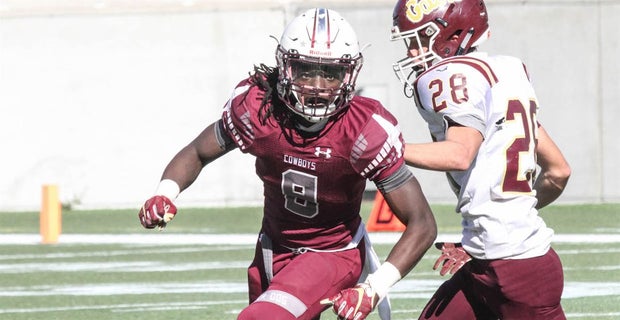 ORLANDO, Fla. — Florida State commit Travis Jay finished his season in style on Thursday afternoon. The 6-foot-1, 185 pound Jay led his Madison (Fla.) Madison County squad to a 48-6 win over Baker (Fla.) in the FHSAA 1A State Championship.
"I feel great," Jay said following the game. "I feel great to be able to come back and win again in my last year, going out as state champs."
While Jay will be a defensive back in college, he also mans the quarterback position for his high school team. He tallied 160 rushing yards and two touchdowns on seven carries. Jay got the scoring going with an impressive 69 yard scamper.
"I didn't think it was going to be that open," Jay said of his first scoring run. "My line made a block, I made a move, and I went down the field."
Now Jay will move on to college, where the Seminoles hold his pledge. However, other programs are trying to sway Jay from FSU.
"I hear from Auburn, Bama, Florida, and Tennessee," Jay said.
The Gators sent safety coach Ron English to his home last week.
"They said I can be a big help and I'm a great player and I can help them win, plus get a great education," Jay said of UF.
Jay confirmed he planned to take an official visit to Florida, but did not know a date yet. Tennessee is another team Jay said he would visit. The Vols sent Charles Kelly by to see him.
"They said the same, I can come in and be great, help the team, and education, that's all I need."
With these other schools still contacting Jay, where does his commitment to FSU stand?
"It's still the same," he stated. "It's just that I'm taking my visits like everybody would."
The Early Signing Period is less than two weeks away, but Jay was unsure if he would sign in late December or wait until February's National Signing Day.
The 247Sports Composite, an industry generated average, currently ranks Jay as the nation's 173 overall prospect and the No. 19 cornerback in the 2019 recruiting class.