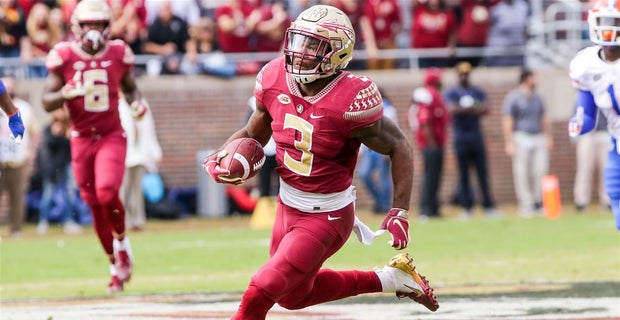 Running the football, and doing so effectively, has been a staple of Willie Taggart teams throughout his coaching career.
From 2010-17 — at three different schools — Taggart teams averaged a healthy 4.7 yards per carry. There were some down seasons at USF (3.00 YPC in 2013), and some elite ones (6.51 YPC in 2016), but Taggart's offenses have generally been able to run the ball at a high level at Western Kentucky, USF and Oregon.
But that success did not translate over to FSU in Year 1 of the Taggart Era.
Far from it.
The Seminoles — for a myriad of reasons that we'll get into later — were last among all Power Five teams running the football in 2018, averaging just 2.79 yards per carry. Only San Jose State (2.07) had a lower average out of 130 FBS teams.
Can Taggart quickly get the ground game back to a respectable level at FSU?
  
Remember, Taggart knows how to implement a successful rushing attack
FSU's inability to field even an average rushing attack in 2018 was fairly surprising, for a few reasons.
First, FSU returned talent at running back. Cam Akers was coming off a season in which he averaged 5.28 yards per carry as a true freshman, and rising senior Jacques Patrick proved to be an ideal complementary piece in 2017 with his powerful approach (5.57 YPC).
Second, and perhaps more important, Taggart came to FSU with a track record of being able to run with football with success.
Not only did his offenses traditionally commit to running the ball (his teams had 500+ carries in 6 out of 8 seasons in which Taggart was a head coach), but they were normally effective at doing so…especially in recent seasons.
Oregon was 19th nationally with 5.20 YPC in 2017. USF was 2nd nationally with 6.51 YPC in 2016 and 13th with 5.41YPC in 2015. Taggart's only down seasons running the ball came in his first two years at USF (2013 and 2014), when he was unable to employ his traditional West Coast power-run scheme at a school that had personnel better suited for a spread system. Taggart's offense took off once he committed to changing the scheme at USF and went with an athletic quarterback in Quinton Flowers.
Even in three seasons at Western Kentucky, at a program that was transitioning from the FCS level, Taggart's offense managed more than 4.0 yards per carry each year.
Having future NFL running backs in the fold (Marlon Mack at USF, Royce Freeman at Oregon) obviously helped, but Taggart's shift to the Gulf Coast Offense — a scheme that emphasizes wide splits and a blend of zone/power blocking concepts with a mobile QB running the system — deserves credit for maximizing the talent on hand.
FSU expected to have similar results with the GCO under Taggart.
"We're gonna spread you out and run the ball right down your throat," Patrick said prior to the start of the season.
That, of course, did not prove to be the case.
   
Reasons for FSU's struggles
FSU's transition from a pro-style scheme to the GCO was, well, disastrous.
The Seminoles struggled to implement the new offense and never found a positive identity nor got into a rhythm throughout the 2018 season. FSU was 103rd nationally in yards per play (5.12) and 113th in scoring offense (21.9 points per game), with the inability to run the ball highlighting the offensive struggles.
Teams started daring FSU to run by the end of the season, with Notre Dame shading its linebackers outside to focus on the perimeter game rather than inside running.
The issues were plentiful, and fed into each other.
It started up front. FSU's offensive line had question marks entering the year, relying on a first-year starter at left tackle (Jauan Williams) and a converted guard at right tackle (Landon Dickerson). However, coaches believed that the line would be serviceable as long as it remained healthy.
That did not happen. Dickerson suffered an ankle injury in the season opener and played just one more game the remainder of the year. Williams was in and out of the lineup as his confidence dwindled. Projected starters like Derrick Kelly and Cole Minshew both battled injuries throughout the year, and FSU tried upwards of a dozen combinations to find a capable starting five. By the end of the year, a converted defensive tackle — Arthur Williams — was in the lineup. 
FSU's ability to either identify offensive linemen or develop them fell off in the final years of the Jimbo Fisher Era as the unit was considered a weak link from 2015-17. Taggart inherited a group that was underdeveloped and devoid of true tackles, and the line's shortcomings came to a head in 2018.
Additionally, FSU's line didn't get much help from a quarterback — Deondre Francois — who struggled to consistently move in the pock and make proper pre-play reads. The GCO is predicated on built-in run/pass options for each play, but that requires properly diagnosing where a defense lacks sufficient numbers. Francois's inability to make plays with his feet and his issues reading defenses before the play limited what FSU could do on offense, and it put more pressure on an undermanned offensive line.
Without consistent room to run, FSU's running backs also found themselves pressing to make big plays. Akers often missed holes and didn't run with patience as he admittedly tried to bounce plays outside in hopes of making something special happen.
The end result?
Akers averaged 4.39 yards per carry while Patrick averaged 3.50 yards per carry. FSU's rushing attack, often a strength this past decade, became a glaring weakness.
  
Ingredients for a turnaround
Typically, teams that finish among the worst in the country in running the ball do so because they have clear deficiencies in that area. As was the case with FSU this past season, there are multiple personnel issues that keep a team from running the ball effectively and it's unrealistic to expect a swift turnaround without an influx of new (or healthy) personnel, or a new scheme.
FSU is bringing in Kendal Briles as its play caller, and perhaps that can help the offense become more organized. And while Briles will run a similar scheme as Taggart, his ability to install the offense and run it successfully has been proven at multiple levels. In Briles' four seasons as an offensive coordinator (Baylor 2015-16, FAU 2017, Houston 2018), his teams have always averaged 5.0 yards per carry or better. He and Taggart should, in theory, have a similar vision with what they're looking to install.
But can the potential of a more symbiotic relationship between head coach and offensive coordinator directly fix the personnel issues that plagued FSU last season?
While it's infrequent, teams can turn their run games around in a single season.
Three Power Five teams that finished in the bottom 10 in yards per carry in 2017 — Virginia, Kansas and Illinois — all managed to drastically improve their rushing attacks in just one year.
Virginia went from 3.13 yards per carry in 2017 to 4.51 yards per carry in 2018 (a 44.09 percent increase).
Kansas went from 3.15 yards per carry to 4.5 yards per carry (a 42.86 percent increase).
Illinois had a remarkable turnaround, going from 3.28 yards per carry to 5.91 yards per carry (80.18 percent increase).
The reason for Illinois' improvement on the ground was largely credited to a young offensive line that got better and healthier after struggling in 2017. Pro Football Focus gave high marks to starters like tackle Nick Allegretti (the line senior in the starting lineup), Kendrick Green, Alex Palczewski and Doug Kramer. The unit had time to bond together while players improved individually during the offseason.
Virginia's growth, per 247Sports' Jamie Oakes, attributed to the addition of a "dual-threat centric" quarterback Bryce Perkins. The JUCO prospect came in and was an All-ACC honorable mention as he become one of just two players nationally to accumulate 2,600+ passing yards (2,680) and 900+ rushing yards (923).
"It's really no surprise or secret," Oakes said. "Perkins' threat on the edge opened up the middle for [running back] Jordan Ellis…and vice-versa."
FSU desperately needs either improved line play and some good injury luck up front, or a spark from a quarterback who can run options concepts at a high level. Or both.
Maybe FSU's line gets a boost from one or two of its four members of the 2018 signing class getting a full year to develop. Maybe another offseason with Greg Frey — or with Randy Clements, or both (it's unclear what FSU's offensive line staff will look like next year) — will lead to improvement for upperclassmen who were not properly developed by the previous regime. Maybe FSU can add additional help in the form of a JUCO prospect or a ready-made graduate transfer. Dickerson, if healthy, will immediately bolster FSU's line wherever he plays…but he'll need others like Cole Minshew, Mike Arnold, Brady Scott and Williams to elevate their play.
And maybe Francois shows improved mobility with another year to heal from a major knee injury. Maybe he gets better with more time to learn how to run a read-option offense. Or maybe FSU turns to James Blackman, who isn't an elite athlete, but is comfortable making options reads and moving around in the pocket to extend plays. Right now, it doesn't look like FSU will get a graduate transfer capable of pushing for immediate playing time, so the only other options will likely be incoming freshmen (if FSU adds a QB to the 2019 class) or Jordan Travis (if he gets a waiver to play this season after transferring from Louisville).
These are all hypotheticals that are admittedly difficult to project.
To get to an above average range in yards per carry (around 4.5), FSU's production uptick would have to be about 61.23 percent.
This sort of jump seems unlikely.
But if FSU can find some stability up front and get better management out of the quarterback position, then an uptick in efficiency comparable to what Virginia and Kansas had this past season (about 43 percent better on average) would put FSU at 4.0 yards per carry.
While that's not where Taggart ultimately wants his run game to be, getting up to about 4.0 yards per carry would be a solid step in the right direction as FSU looks to get back on track.