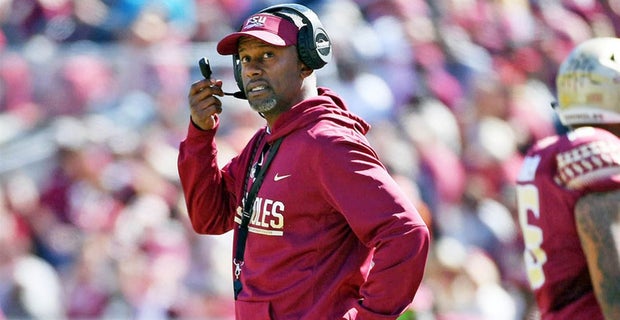 Florida State isn't just looking for an offensive coordinator.
Whoever takes over as the next OC under Willie Taggart will likely be a play caller, a quarterback coach…and an experienced hand who can navigate an offense with complete autonomy.
Walt Bell left his spot as FSU's offensive coordinator after one season to accept the head-coaching job at UMass on Monday, opening up the position for Willie Taggart to make a splashy hire. A source of contention for Bell was that he ultimately didn't feel comfortable installing Taggart's offense and that he never truly had complete control to run the system to his liking, even when he was made the primary play caller in the final month of the season.
Players, according to a source, sensed tension that Bell was not buying into Taggart's philosophies. Taggart gave up play-calling duties to better oversee the program, but that was not his initial preference. He initially felt confident in running his Gulf Coast Offense, just like he had from 2015-16 at USF and in 2017 at Oregon. However, Taggart has come to the conclusion that he needs more help in that department so he can take a macro approach to operating FSU.
***Here's the latest Coaching Insider from Tuesday morning (VIP)***
Bell's departure, in hindsight, seemed mutual. The timing and the destination were surprising internally, but both sides seemingly wanted something different. One source told me that Taggart began zeroing in on big-name coordinators at least week ago (Kliff Kingsbury's name was mentioned) and another confirmed that FSU was willing to splurge for a proven commodity at the position. That's not to say that Bell wasn't an intriguing up-and-comer, but Taggart's philosophies have shifted. He wants someone he can entrust his offense to, which if that mindset is maintained and the plan is executed properly, makes a ton of sense.
OK, now that the background and qualifying is out of the way…it's time to start looking ahead. What task is FSU's next offensive coordinator facing? Given what we know, whoever Taggart ends up hiring will have a lot of work to do in order to get this offense back at a functional level.
Here are the ideal traits FSU is looking for in its next offensive coordinator, and the areas the new coach must address to get the offense up to speed.