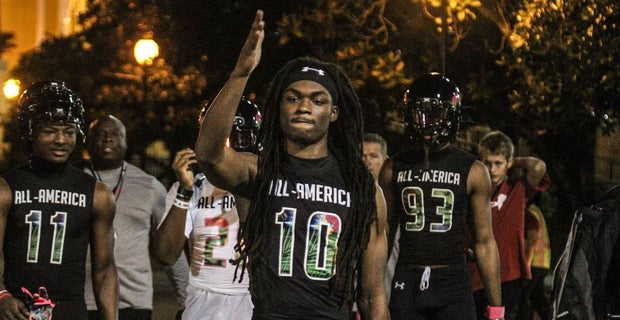 Dennis Marroquin has coached his share of stars during his time with the Florida Fire, one of the country's premier 7-on-7 teams.
Situated in the recruiting hotbed of South Florida, Marroquin has seen players come through his program and go on to star at the next level, such as Eddie Jackson (a Pro Bowl and All Pro safety), Calvin Ridley (an All-Rookie Team wide receiver in 2018) and Trayvon Mullen (a Clemson cornerback who's projected to be a first-round selection in this year's NFL Draft).
It's early given that he hasn't yet played a snap at the college level, but Florida State defensive back Akeem Dent projects to follow a similar path in Marroquin's mind.
"I've had some special players, and I'd put him in that type of category," Marroquin told Noles247. "He's a big-time player. Big, fast, long, strong and knows how to make plays. …Akeem has been with us through his high-school career, and he was always a player who never backed down from anybody.
"Florida State is getting a good one."
Dent (6-1 170) is the highest-ranked player in FSU's 2019 recruiting class as he currently sits as the No. 35 overall player and the No. 3 cornerback. He recently enrolled at FSU in what was a surprise twist to his recruitment, and Dent's presence on campus is expected to help boost more than FSU's secondary this spring.
"He is an important piece of this signing class and will be a major building block for our program moving forward," FSU coach Willie Taggart said in a release. "His heart is immeasurable, and his desire combined with his physical abilities fit perfectly with the culture of our program."
Marroquin is excited to see what Dent will bring to FSU in terms of helping elevate the competitive nature within the program. Marroquin also coached FSU starting cornerback Stanford Samuels III when he was with the Florida Fire, and he thinks both players are cornerstones in what could be a loaded secondary.
"Akeem has his swag with how he talks and everything, but he's all business on that field," Marroquin said. "He's a scary man, there's no backing down."
Dent first joined the Florida Fire in ninth grade, and it didn't take long for Marroquin to realize how special Dent could become. Confident and ultra competitive, Dent routinely went up against older players during practice and did more than hold his own. There were other times when Dent would beg Marroquin to play some receiver, and when Marroquin allowed him to move over, Dent responded by "going stupid and bombing on every play" as he scored one long touchdown after another.
"He wouldn't back down from a junior four-star receiver when he was in ninth grade," Marroquin recalled. "He was instantly comfortable. There were guys who are young and shy, and then there are guys who are hungry. He was hungry from Day 1, and he's just out there having fun. He has swagger. He's that kid."
FSU is bringing in a star-studded secondary class, one that will push a group that returns nearly every starter from last season. Dent is expected to lead the way for a potential youth movement as FSU looks to bounce back from a 5-7 campaign, and he has the potential to make an impact at a couple spots given his athleticism and competitive nature.
"I think he can play corner or safety," Marroquin said. "He's able to switch his hips so fast, it's not even funny. But he will tackle you and will hurt you, too. He would frustrate receiver in 7-on-7, people would want to take a shot at him because they know he was going to jam the hell out of them. And he's so damn long. He can do it all. It's either, or."