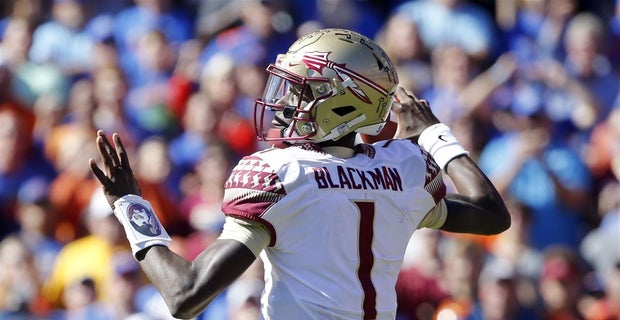 Quarterback James Blackman will likely remain at Florida State, multiple sources with direct knowledge of the situation told Noles247.
This comes several days after Blackman filled out and submitted documentation to FSU in order to put his name in the NCAA's transfer portal per a source, as reported by Noles247 on Wednesday. His name, however, has yet to officially appear in the database.
Rick Butts, Blackman's legal guardian and godfather, told Noles247 that an in-person meeting between Blackman and coach Willie Taggart on Thursday was productive.
"I know James is loyal, he's very loyal to his teammates," Butts said. "Between talking to his family and his teammates, and the coaching staff, things seem to be looking up."
Per the NCAA's official website, a school must enter a player's name in the national transfer database within two business days. A source with knowledge of Blackman's decision making said that the redshirt sophomore signal caller did complete and submit documentation to go into the transfer portal, but believes Blackman changed his mind on entering the portal before the name could officially show up in the database within the allotted two-day window.
The meeting with Taggart on Thursday appeared to ease concerns that Blackman had with his role within the program. An FSU source told Noles247 that they were confident Blackman would stay with the program after the conversation. Blackman also met with offensive coordinator Kendal Briles to discuss his future in the scheme. Taggart was on the road recruiting and returned to FSU to meet with Blackman before going back out recruiting, per a source.
Blackman, of course, could still change his mind since he was recently open to exploring other options, according to a source. But as of now, Blackman's commitment to FSU and his teammates appears to be firm.
The transfer portal allows a player to explore his options at other programs by talking to coaches without penalty. It is essentially a database that lets other teams know that you are available to transfer. A player can always withdraw his name at any time as well. Entering your name does not mean you intend to transfer, but it does allow a player to test the waters and communicate with coaches from other programs.
Blackman started 12 games at FSU as a true freshman in 2017, and he started one game in 2018 in which he threw for four touchdowns and 421 yards in place of injured starter Deondre Francois. Blackman has 2,730 passing yards and 24 touchdowns to 12 interceptions in his career. He qualified for a redshirt in 2018 after only playing in four games.
FSU's staff was not anticipating Francois to return exiting the 2018 season. However, Francois returned to FSU for the spring semester. Blackman would've had a fairly clear path to a starting spot had Francois not returned given that the only other scholarship quarterback on FSU's roster is transfer Jordan Travis.
Blackman, as long as he returns, is expected to vie for FSU's starting job beginning this spring.
Josh Newberg contributed to this report.