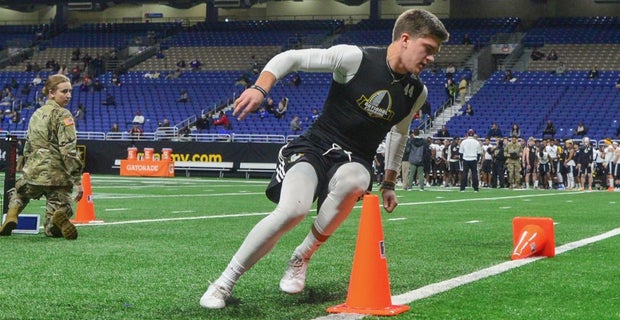 John Rhys Plumlee is a name to keep an eye on as Florida State re-evaluates its quarterback board.
The Seminoles want athleticism at the position, and Plumlee fits in that regard. The Georgia commit is rated as the No. 7 overall dual-threat QB in the 2019 class and the No. 265 overall prospect.
Familiarize yourself with Plumlee's game with a quick breakdown of his strengths…
PLAY 1: QUICKS 
Plumlee played in an offensive system that is very similar to what FSU wants to run. Option concepts are prevalent in the run game, as are designed QB runs. Plumlee is comfortable with either concept and is a wizard with the ball, making quick reads while proving to be a dangerous runner.
Even in tight quarters, Plumlee has the athleticism to make moves and get past would-be tacklers, as you see above. He processes the game quickly and has the athleticism to make defenders pay if they hesitate.
PLAY 2: IMPROV SKILLS
A big part of Plumlee's game is his ability to extend plays with his feet and open up passing lanes by moving out of the pocket. Quinton Flowers excelled at this at USF, and Plumlee has a similar skill set.
PLAY 3: ATHLETE
Plumlee is an excellent athlete, with verified 4.6 speed (and rumors of 4.3 speed) that translates to the football field. What stands out about Plumlee is that he plays under control while moving swiftly, and he accelerates to his max speed in a hurry as you'll see below.
Plumlee is a gifted runner and would instantly upgrade the overall athleticism in FSU's QB room.