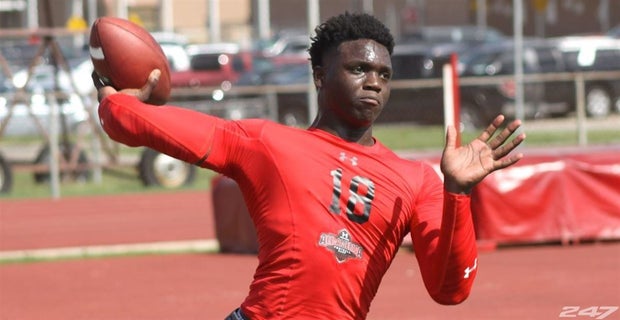 Florida State has had its eye on New Orleans quarterback Lance LeGendre for some time.
Now that quarterback Sam Howell finally flipped to North Carolina, the Seminoles are likely going to make him a top priority among signal callers in the 2019 recruiting class.
LeGendre is the No. 5 dual-threat QB in the class per the 247Sports Composite, and he fits what Willie Taggart wants in a QB given his athleticism and comfort in a true spread offense. 
Here's a look at a few of the traits that make LeGendre an appealing target for FSU…
PLAY 1: VELOCITY

The ability to go to the far side of the field and throw a pass outside is, well, rare. Velocity and accuracy are needed to make this throw. Can LeGendre do it consistently? That remains to be seen, but it's clearly a part of his arsenal and that gives you something special to work with.
PLAY 2: RPO, QUICK-PASS COMFORT
The in-play run-pass-option was not a consistent part of FSU's offense last year, because Deondre Francois simply didn't seem confident making the reads necessary to utilize the popular concept. Instead, he did more pre-play reads with built-in options based on numbers advantages.
Getting a QB who has a background in running RPO could go a long way in helping the entirety of FSU's offense, and LeGendre has familiarity making quick decisions on whether to hand the ball off or attempt a fastball. At the least, he's able to go from play-action to quick pass in an efficient manner.
  
PLAY 3: IMPROVISATIONAL SKILLS
This is another aspect that was missing this past season. The ability to move around in the pocket to extend plays is a huge part of Gulf Coast offense, and Francois wasn't comfortable doing so for most of the season as he was consistently reminded that he had to move up in the pocket.
LeGendre does a really nice job extending plays with his feet and running to improve passing lanes.