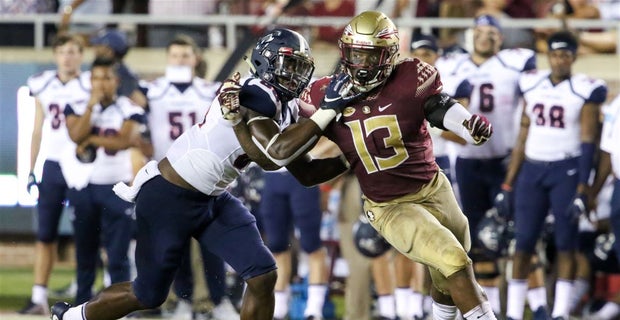 Florida State is losing one of the country's premier pass rushers in Brian Burns.
The junior, to no surprise, announced his decision to go pro on Monday.
The Seminoles averaged 2.33 sacks per game, which was 50th nationally, last season. It was a fairly mediocre pass rush by the end of the year, and that was with an elite edge rusher like Burns, who led college football with 68 quarterback pressures in the regular season per Pro Football Focus. Burns had 10 of FSU's 28 sacks as well and didn't get a ton of support from fellow defensive ends.
Now, without Burns, FSU needs its returning defenders to elevate their play and will likely be reliant on incoming freshmen to find ways to get to the quarterback.
Who will be responsible for generating FSU's pass rush in 2019? Here are the candidates…
DE Joshua Kaindoh, Jr.
A former five-star recruit, Kaindoh has only shown flashes of living up to his vast potential through two seasons. He has 7.5 sacks in his career, although only 2.5 have come against a Power Five opponent (Wake Forest).
The lack of steady production this year can be partially attributed to an unspecified injury that cost Kaindoh most of the offseason. He started looking more explosive in the back half of the season as he got in better shape and felt more comfortable.
Still, Kaindoh managed just 3.5 sacks on 218 pass-rush snaps as he earned a pass-rush grade of 62.3 (210th nationally) per PFF. Kaindoh (6-7, 256) is a physical specimen, but he needs a full offseason to develop reliable pass-rush moves to become more productive in 2019.
  
DE Janarius Robinson, Jr.
Robinson certainly looks the part and made strides as a run stopper, but he was largely ineffective when rushing the passer this season.
Robinson had just one sack on 197 pass-rush snaps and had a pass-rush grade of 57.1 per PFF. There's a lot to like about Robinson's upside, and he can be a disruptive player when he's confident and flying around, but we've yet to see him play at a consistently high level as a pass rusher. Can he get there in 2019?
DE Xavier Peters, RS Fr.
We only saw Peters appear in two games this past season. The four-star recruit got off to a late start after needing extra time to get qualified, and that seemingly put him at a disadvantage in adjusting to the college game.
However, Peters showed an excellent blend of instincts, athleticism and aggression in a small sample size vs. Wake Forest. He finished with a PFF grade of 76.6 in just a few plays, but was all over the place when he got on the field. FSU hopes to harness that performance and turn Peters into a contributor this upcoming season. 
  
DT Marvin Wilson, Jr.
No, the 300-pounder isn't an edge rusher…but he proved that he can get to the quarterback this season.
A quick first step, brute strength and a high motor helped Wilson record 3.5 sacks (tied with Kaindoh for second on the team) this past season. He was efficient in getting into the backfield and applying pressure, earning a PFF pass-rush grade of 78.6.
FSU probably cannot rely on getting pressure off the edge as often as it did this year with Burns, but Wilson is capable of routinely collapsing a pocket and providing pressure from inside next season.
  
DT Cory Durden, RS Soph.
Another interior defender to keep an eye on, Durden had a couple sacks in his first year of action. He's a long, fairly agile big man who can impact a passing attack with his wingspan and quick first step.
Durden had a solid pass-rush grade of 70.6, per PFF.
  
Class of 2019
Ultimately, FSU is thin at defensive end and will need a boost from its incoming rookie class.
Right now, FSU has five defensive linemen committed: Two (Curtis Fann and Derrick McLendon) are surefire edge defenders while two others (Quashon Fuller and Derick Hunter) have upside as strong-side ends or interior defenders. Fann and McLendon are high-energy players with the capability of playing Flash or strong-side defensive end.
Finding a twitchy edge rusher capable of filling Burns' field-side role won't be easy, but FSU is in the mix with five-star Kayvon Thibodeaux, Derick Hall (probably considered more of a linebacker for FSU) and JUCO prospect Sam Williams (committed to Ole Miss, but visiting FSU on Dec. 14). Adding at least one more defensive end capable of contributing in pass-rush packages is a priority given the lack of depth FSU has at the position now that Burns is gone.