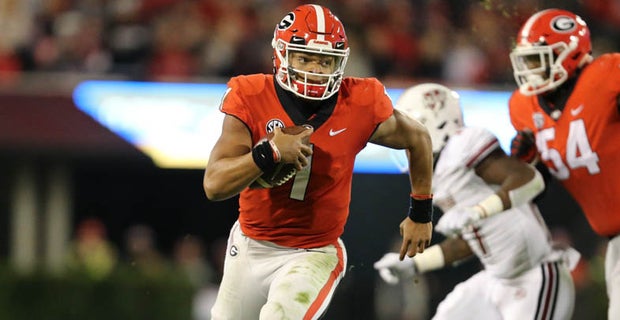 Georgia quarterback Justin Fields — the country's No. 1 dual-threat quarterback in last year's recruiting class — intends to transfer, according to a report.
USAToday's Dan Wolken released a story on Monday evening reporting that Fields is exploring the option of transferring from Georgia after one season with the Bulldogs. The report — which can be read here — states that Fields has informed Georgia of his decision, although neither Georgia nor Fields have yet addressed the report publicly.
ESPN later reported that Fields is exploring the possibility of transferring, but a source told the publication "it's not done" and that he still intended to be with the team for the Sugar Bowl on Jan. 1. Here's the kicker: The report (can be read here), citing multiple sources, stated that Fields "might consider Florida State, Ohio State and Oklahoma if he decides to leave."
It's a decision, if Fields does indeed end up transferring, that will send quarterback-needy schools across the country into a frenzy. And you can count FSU as one of the programs that will have a keen interest in how this story develops.
Here's what we know at this time:
-FSU has a need at quarterback. Currently, there are two scholarships with starting experience on FSU's roster in rising redshirt senior Deondre Francois and rising redshirt sophomore James Blackman. Both quarterbacks have starting experience. It's unclear at this time whether Francois plans to return to FSU for his senior season. A decision on his future plans has not yet been made public. If he does not return, Francois could explore the possibility of going pro or possibly transferring since he graduated this past semester.
-FSU is in the market for a transfer quarterback. Specifically, the Noles247 staff has learned that FSU is interested in a graduate transfer quarterback to help build immediate depth at the position. Does that mean a starting-caliber signal caller who can push for the starting job? Ideally, yes. FSU wants to not only enhance the depth at each position along its roster after a 5-7 season, but also cultivate increased competition. The quarterback room wasn't the main reason for FSU's offensive woes, but the Seminoles still had one of the least effective offenses in the country and it's reasonable that they'll explore all options to upgrade the unit.
-Fields is not a graduate transfer and would likely have to sit out a year and redshirt wherever he transfers (if he transfers). ESPN laid out that he'd need to apply and receive a hardship waiver to possibly play immediately. Still, he's an immense talent and FSU would be open to bringing in someone of his caliber even if it meant him not being available for a year.
-Coach Willie Taggart reached out to Fields when first arrived at FSU last December and made Fields a priority, but he was already firmly committed to Georgia. It was too late. But it's worth noting that the two sides have familiarity in one another and that Fields also visited FSU several times prior to committing to Georgia when Jimbo Fisher was still in Tallahassee. Fields has built-in relationships with some current FSU players from his recruiting process.
-As noted earlier, FSU currently has two quarterbacks on scholarship at this time. It's a dangerously low number to take into a season (FSU dealt with this in 2018). The Seminoles do have a commitment from four-star signal caller Sam Howell, although his father told Inside Carolina earlier on Monday that the North Carolina native was still deciding between FSU and UNC. FSU has invested a ton of time and energy into Howell, and hasn't aggressively pursued other quarterbacks since Howell committed to the Seminoles in April. If Howell ends up flipping to UNC, that leaves FSU in a major bind since most impact quarterbacks in the 2019 class already have homes. Getting Fields would give FSU its long-term answer at quarterback.
-FSU needs a mobile quarterback, and Fields needs a platform to where he can be utilized as a full-time starter. Fields committed to Georgia knowing that Jake Fromm — then a true freshman — was entrenched as a starter. Fromm continued starting this year and put up 27 touchdowns to 5 interceptions while Fields was used in sub-packages but never found a steady role.
 
So, long story short, FSU needs quarterbacks. Especially, dual-threat ones that fit in Taggart's idea for a spread offense. And Fields — considered one of the best dual-threat quarterback recruits, ever — seemingly needs a home and an opportunity to be QB1. FSU is in position to provide both.