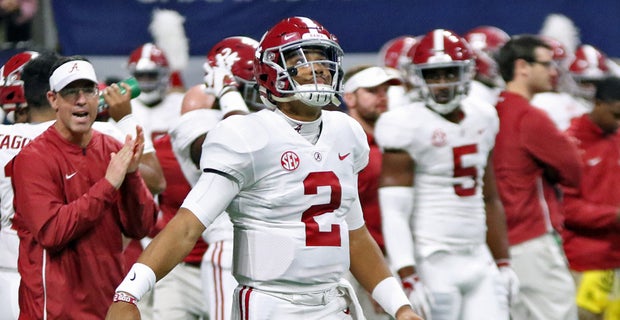 Alabama quarterback Jalen Hurts, if he does decide to go elsewhere as a graduate transfer after the 2018 season, could be one of the most sought-after transfers in the history of college football.
Hurts, a junior, will be eligible to move to another program after this season as a graduate transfer. Now, Hurts hasn't said that he'll leave Alabama after the year, but it's reasonable to assume that he'll at least explore his options as a two-year starter who ultimately lost his job to eventual Heisman finalist Tua Tagovailoa.
If Hurts does indeed hit the transfer market, it stands to reason that FSU as a landing spot would make sense for both sides. Here's why.
Why Florida State could be interested
FSU's need for athleticism and a proven leader could lead it to Hurts, an SEC Offensive Player of the Year winner who has lost just two games as a starter. FSU wants more mobility among its quarterbacks moving forward, and Hurts fits that bill.
The other plus is that he comes from a winning culture and could be a positive influence in a locker room that's become accustomed to losing too frequently.
Hurts would be a one-year option, that's the downside. But there are enough appealing aspects here for FSU to take a close look at the dual-threat QB.
Why Florida State would be appealing
–Playing time. Anywhere Hurts goes would need to result in a starting job, or else there isn't much of a point in transferring at this stage in his career. FSU is unsure if Deondre Francois returns for his senior season at this point, it's safe to say that FSU isn't operating under the assumption that he'll be back. If that's the case, FSU has just one quarterback on scholarship — redshirt sophomore James Blackman. Hurts would have to win the starting job, but he'd get plenty of reps in practice to do so.
–Fit. FSU wants a quarterback who can run and execute read-option concepts. That's when Taggart's offense has been at its best. Hurts' talents would be welcomed at FSU and the staff would work to maximize his strengths as a runner and decision-maker. Hurts passed for 2,081 yards and 17 touchdowns with only one interception as a sophomore while rushing for 855 yards…and he had 2,780 yards passing yards with 23 touchdowns compared to nine interceptions as well as 954 rushing yards as a freshman.
–Young WRs. The offensive line is an issue that must be addressed, but a dual-threat QB like Hurts could help mitigate those problems. That would be the likely pitch to Hurts, at least. And he would have a bevy of offensive weapons to use as well in a spread system that is expected to be operated by proven play-caller Kendal Briles (if he's indeed hired after the Early Signing Period). Wide receivers Tamorrion Terry, Tre'Shaun Harrison and Keyshawn Helton were all bright spots for FSU this past season and figure to be building blocks in the passing attack. Harrison and Helton showed the ability to do damage after the catch as well this season, and they'd be good fits for Hurts in the perimeter passing attack.