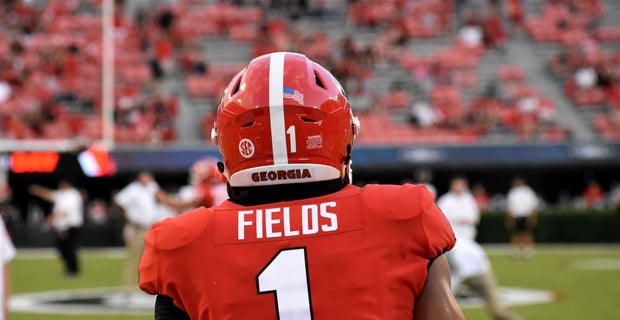 Florida State figures to be a factor in the recruitment of Justin Fields, who is exploring the possibility of transferring from Georgia after placing his name in the NCAA Transfer Portal earlier this week.
FSU, Florida, Tennessee and Ohio State are considered schools that Fields' camp will vet, and Oklahoma has been mentioned as well according to multiple sources.
We broke down FSU's quarterback situation and why Fields would make sense earlier this week. Now, after longtime QB commit Sam Howell flipped to North Carolina, FSU's pursuit of finding a signal caller through the transfer market is going to heat up. So as we look at the top targets on FSU's QB board, we'll get into more specifics on why Fields makes sense.
 
Why Florida State could be interested
Why not? Fields had a 0.9998 composite rating and was the country's No. 2 overall prospect in the 2018 recruiting class, so there's raw talent galore to work with. He was used primarily as a running threat in sub-packages his rookie year at Georgia, finish with 266 yards and 4 touchdowns on 42 carries, so we know for a fact that his athleticism translates to the college level. And FSU is making athleticism at quarterback a priority moving forward.
As FSU closes in on its offensive coordinator (we continue to operate under the assumption that Houston OC Kendal Briles is hired following the Early Signing Period), it appears evident that FSU is going to continue to work on transitioning from a pro-style approach to a spread that emphasizes a quarterback's ability to make in-play decisions with read-option and run-pass-option concepts. This is an area Fields is comfortable with, and getting someone who can make plays with his feet and arm is what FSU is looking for.
Why Florida State would be appealing
–The chance for immediate playing time. FSU is operating under the assumption that starter Deondre Francois may not return, leaving one scholarship quarterback in the fold in James Blackman. Blackman has proven that he's a more-than capable player, but FSU ultimately wants to add others who can push for a starting job. They certainly want to bolster the depth after going through last season with just two scholarship QBs, but bringing in dual-threat quarterbacks capable of starting at the Power Five level is a priority. The possibility for playing time has to be attractive to Fields after he was used as a backup in his first season of eligibility. The best way to make up for lost time is to position himself to start immediately, and FSU's lack of depth at the position could be appealing. Of course, other programs will have the ability to sell Fields on playing time, so FSU must distinguish itself.
–Scheme fit. FSU appears committed to its RPO-based offense. If it hires Briles, it will have a proven play-caller who's coordinated some of the top offenses in the country in recent years. A QB-friendly scheme that maximizes Fields' decision making and duality has to be attractive.
–Surrounding skill talent. There are questions about FSU's offensive line, and that's something the Seminoles staff would have to address with Fields if conversations were to occur about the possibility of coming to FSU. The Seminoles have added three linemen in the early signing period — including athletic OT Jay Williams and the country's No. 6 guard in Dontae Lucas — and are expected to add about three more linemen in the 2019 class. So an attempt to address a major need is at least being made. FSU can't sell a ready-made offensive line just yet, but it can sell skill players to help Fields. RB Cam Akers looked increasingly comfortable in the new scheme as the year progressed and returned to his rookie form (1,025 rushing yards) while WR Tamorrion Terry finished third nationally in yards per catch (21.26) as a rookie. The ability to grow with young talent would be a part of an FSU pitch to Fields.
–Dual-sport history. If Fields wants to play baseball as well in college, FSU has a pretty strong history of catering to dual-sport athletes (see Deion Sanders, Charlie Ward, Jameis Winston and Jalen Ramsey). Fields is a talented middle infield prospect and FSU would likely be comfortable letting him play two sports.
–Previous relationships. FSU did recruit Fields aggressively, although that was with a previous staff. Still, current players like Amari Gainer and Deondre Sheffield formed good bonds with Fields during that process and that could be appealing to Fields…at least enough to give FSU a closer look. Additionally, Fields has been on FSU's campus several times and knows what Tallahassee is like, so that'd be one aspect he's already comfortable with.