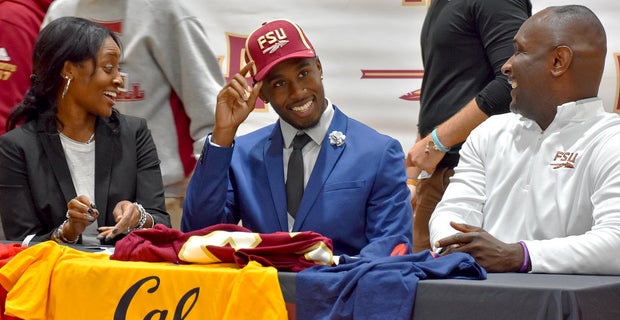 TALLAHASSEE — Florida State got good news on Wednesday afternoon when Tallahassee (Fla.) Florida State University School four-star defensive athlete Raymond Woodie III committed to the Seminoles. He signed immediately after announcing during a ceremony held in his high school gymnasium.
Woodie III, who is the son of FSU linebackers coach Raymond Woodie Jr., would seem like a foregone conclusion to join the Seminoles – with his father working for the program and him having a long-term relationship with head coach Willie Taggart – but that isn't how his recruiting process played out.
"It was pretty cool with Raymond, just the same way we recruited everybody else — in-home visits with them. And that was kind of weird for me. I've been knowing this young man since he was a shorty," Taggart said of pursuing the local prospect. "So I know for me, it was a little weird for me to sit in and have our one-on-one meeting and sit down with the family. And now Coach Woodie is sitting here with me. I'm, like, what are we doing? It was different.
"But it was also an exciting time for me because I watched this young man grow and to see where he's at now and see the type of young man that he is, not just on the football field but socially and just how he carries himself has been great," Taggart added. "And I'm excited to be able to watch him grow and help him grow into the young man that he wants to be."
The young Woodie didn't feel pressure to be a Seminole because of his many ties to the program. And his father certainly didn't apply pressure for him to come play where he works.
"He kind of let me do it on my own. He never really pressured me into it or anything like that," Woodie III said. "He let all the other coaches recruit me. He let everybody recruit me."
FSU's recruitment of Woodie III, which was spearheaded by defensive coordinator Harlon Barnett but involved the entire defensive staff and others, paid off in the end as he committed to FSU over Cal, Louisville and Ole Miss on Wednesday.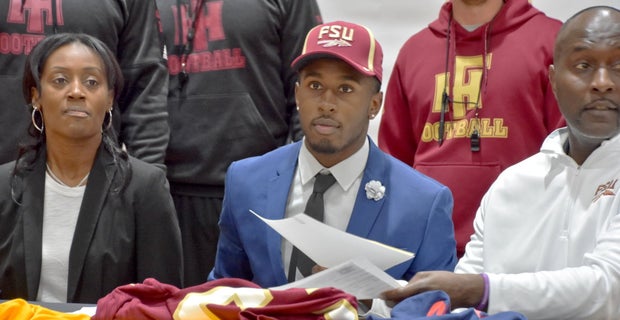 Woodie III shed light on how he came to the decision to be a Seminole.
"It was really close. Louisville, they led honestly for a lot of my recruitment. And then my coach that recruited me, he left. And then I was just like, kind of fell in love with Florida State more and more," Woodie III said. "Then me and coach Taggart have known each other, kind of like an uncle to me. At that point, that's when I knew I was going to Florida State. It was a real tough choice.
"Ultimately, it was just where I felt the most comfortable. I felt like I could play the earliest. I just wanted to come in and change the culture. I didn't want to go somewhere where it was already set in stone. I wanted to be a part of something, be a part of history," Woodie III stated.

He let his parents in on his decision at the start of his official visit to FSU this past weekend, where he spent time with several members of Tribe 19.
"I let him know Friday," Woodie III said of his dad. "They were really excited. Everybody was excited. My grandparents, they just found out today."
While he will share a field with his father in the coming years, he will be learning under one of his co-workers.
"The coaches promised that they would keep him away from me as much as possible and that I would be coached by coach Barnett," Woodie III said.
As mentioned, Barnett played a prominent role in recruiting Woodie III, who FSU views as a 'Zeus' safety in their scheme.
"He played a huge role. Me and him, we had a prior relationship when he was at Michigan State. And then at Florida State, me and him talk all the time. I feel like he's just another father figure to me," Woodie III said of Barnett. "He played a big role.
"They like me at safety but I can play anywhere in the secondary, so wherever they need me the most," Woodie III said before adding more about potentially playing the 'Zeus' role. "You can do a lot of different things … different looks."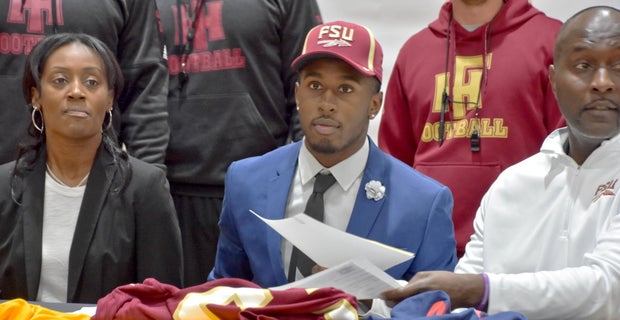 As the hubbub of his announcement and signing ceremony died down on Wednesday afternoon, Woodie III was busy being congratulated by his family, friends, teammates and school personnel. Everyone in the room had a good word to say about the newest Seminole. FSUS head coach Jarrod Hickman led the charge.
"You couldn't ask for a better student-athlete," Hickman said. "Hard working. Does whatever you need him to do, whatever it takes to be successful.
"He's just a tremendous, tremendous athlete," Hickman added. "And he's proven that time and time again. He's one of our leading receivers, one of our leading kick returners and certainly defense is where he made his name.
"Just couldn't say enough about this young man," Hickman continued. "We are excited."
Hickman isn't the only one excited about Woodie III as a person and player. Taggart, his next head coach, is looking forward to the opportunity of having Woodie III in his defensive arsenal.
"Really excited about Ray. A really good football player. And like I say, it'll be fun to watch him just develop as a football player and become this big-time college football player," Taggart said. "I'm glad that he's on the football team."
As for Woodie III, the close, personal relationships that partly played a role in him deciding to be a Seminole are people like Taggart and his father. He has had a front row seat to them putting in the work to build programs and turn around teams on the field. Coming off a 5-7 season in Tallahassee, Woodie III sees ingredients of the old, familiar recipes at work in Tallahassee – which ultimately played a role in why he wanted to be a part of it.
"A lot of people are giving him a hard time right now but it takes time to build a program. I've seen it firsthand. I just want to be a part of that at the next school, Florida State. And get them back to the national championship," Woodie III said.
He will now prepare to enroll in January after participating in the Under Armour All-America Game. He will wear Garnet and Gold, while sharing the field with his father and others who he has known for some time, hoping to play a role in a resurgence for the Seminoles.