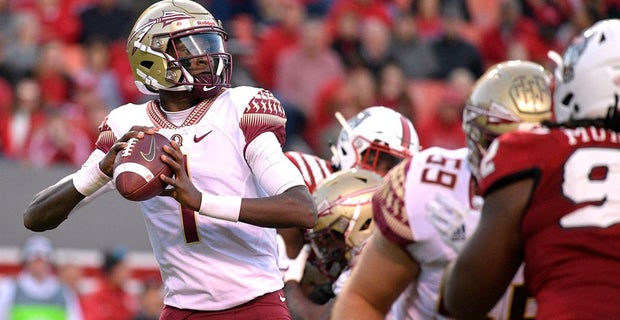 TALLAHASSEE — Florida State quarterback James Blackman has started the process of putting his name in the NCAA transfer portal, a source told Noles247.
Blackman, a redshirt sophomore, started 12 games as a true freshman in 2017 following an injury to Deondre Francois. He also started one game this season in his first year under Willie Taggart, earning ACC quarterback of the week honors for his performance against N.C. State (431 yards and 4 touchdowns). He's expected to be a commodity once he enters the transfer market. The source told Noles247 that Blackman filed to enter the transfer portal on Wednesday, but it could take up to 48 hours for his name to show up in the portal.
The transfer portal allows a player to explore his options at other programs by talking to coaches without penalty. It is essentially a database that lets other teams know that you are available to transfer. A player can always withdraw his name at any time as well. Entering your name does not mean you intend to transfer, but it does allow a player to test the waters and communicate with coaches from other programs.
This does not mean Blackman is definitely leaving FSU, but it appears that he intends to explore his options.
Blackman has been lauded by coaches and players alike for his professionalism, and has been called the 'ultimate teammate.' However, that respect has not translated into a definitive role for Blackman, and that could explain why he's open to hearing what other programs have to say. Francois took back his starting job the week Blackman started this season after sitting out with a concussion in the November contest against N.C. State, and Blackman did not take another snap in order to preserve his redshirt. But it became clear that FSU was unsure of how it wanted to use Blackman throughout the season, and that indecision about his standing as FSU's longterm option at QB has been reflected in the staff's search for possible options on the graduate transfer market.
Blackman is currently one of three scholarship quarterbacks on FSU's roster. Francois, in a move that surprised some within the program, returned to FSU this semester after testing the NFL waters. FSU also has a transfer from Louisville, Jordan Travis, although it's unclear if he'll be able to qualify for a hardship waiver in order to become immediately eligible for the 2019 season.
Blackman was a three-star prospect coming out of Glades Central High in Belle Glade (Fla.) The other quarterback who signed with FSU in the same class as Blackman, four-star recruit Bailey Hockman, transferred from FSU after Francois was named the starter at the end of preseason camp. Blackman passed for 2,230 yards and 19 touchdowns to 11 interceptions as a freshman (completing 58.2 percent of his throws), and was 33 of 51 for 510 yards and 5 touchdowns to 1 interceptions this season.