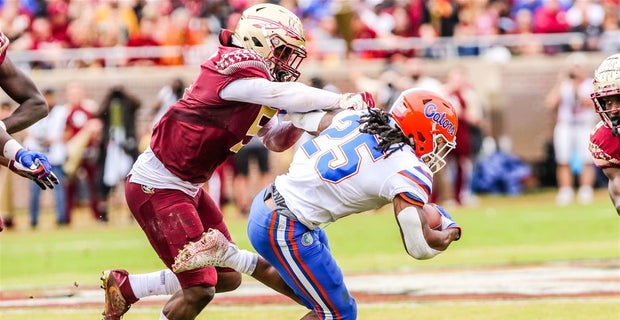 Florida State prioritized linebacker during the 2019 recruiting cycle in the hopes of revamping the position in a hurry.
The Seminoles needed to add both competitive depth and potential impact players at the position, and they appeared to accomplish both objectives. A blue-chip recruit enters the fold this spring, and getting another key contributor healthy should further help a unit that struggled this past season.
There's now legitimate reason for optimism at linebacker beginning this spring…
Spring Inventory*
Sr. LB Dontavious Jackson
(33 career games; 111 career tackles, 11.5 TFL, 1 INT and 2.5 sacks)
Jr. LB Leonard Warner
(25 career games; 43 career tackles, 1.5 FL)
RS Jr. LB Emmett Rice
(29 career games; 31 career tackles, 1.5 TFL and 1.0 sack)
RS Sr. LB Adonis Thomas
(15 career games; 29 career tackles, 1.0 TFL)
Sr. LB Josh Brown
(31 career games; 5 career tackles)
Fr. LB Jaleel McRae
NA
RS Soph. Star DeCalon Brooks
(11 career games; 46 career tackles, 3.0 TFL, and 1.0 sack)
RS Fr. Star Amari Gainer
(4 career games)
What We Know
–FSU has a quality starter in Jackson. He's a physical, throwback type of 'backer capable of starting at Mike or Money (the two inside linebacker spots) depending on who's alongside him.
–The linebackers were asked to focus on the run in order to mask some limitations last season. Everyone returns this year, meaning improvement is realistic.
–Rice flashed later in the season as he made his return from a late-year knee injury in 2017. He should contend for a starting job.
–Starting Star Jaiden Lars-Woodbey will get a look at safety this spring. It's considered his more natural position, although he played well at Star last year. What's the reason for the change? Well…
What We Don't Know
–Moving Lars-Woodbey back to safety feels like an indication that FSU is confident with its linebacker depth. The initial conclusion to jump to is that the staff is high on McRae as a potential contributor inside, which would allow other linebackers with starting experience inside (i.e. Rice and Brooks) to kick out to Star. 
–Who is the likely start at Money linebacker? Rice, Jackson (he'll start, but could slide out if FSU goes with Warner as the Mike LB), Thomas, Brooks and Brown all have some starting experience. Rice, however, could get looks at Star as well.
–Is the group markedly improved from last year? Logically, the answer is 'yes' given that FSU enters the spring with more experience and depth than what it had last year. But this is not a given.
The Focal Point
Rice plays with the intensity and physicality FSU's coaches are looking for, and he should be in position to play freely now that he's more than a year removed from an ACL tear.
He has the physicality to play inside, but is also quick enough to defend in space as long as he's completely recovered from the knee injury. This sort of versatility was missed last year, and it will give FSU some much-needed flexibility in the spring.
A Breakout Candidate
There's a lot to like about McRae's game. He's physical, instinctive and plays well in space. He has the makings of a well-rounded linebacker who is suited for modern football. Two knee injuries are a concern, but his game appears to be solid. The expectation at FSU is that he'll be a multi-year starter, and he'll get a chance to push for a spot in the linebacker rotation this spring.
Previous Position Previews
Building with Blackman at QB | Getting the RBs back on track | The next step for young WRs | A renewed focus on the TEs? | Overhauling the offensive line | Who's next on the DL? |