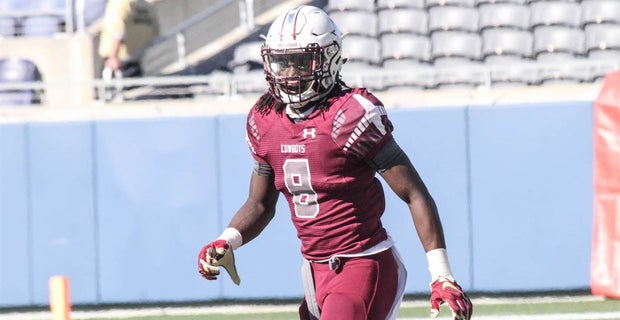 Florida State has shown signs of building up some much-needed momentum heading into the final stretch of the 2019 recruiting cycle.
That's not to say that FSU is currently in an ideal spot with just a couple weeks left before National Signing Day on Feb. 6. The Seminoles currently have the No. 17 class in the country, and a Top 10 class will be awfully difficult to achieve mathematically. Sitting outside of the Top 10 is not where FSU typically resides, and it isn't a formula for creating a championship contender.  
But entering a weekend that's expected to be quiet on the recruiting trail — FSU's coaches are meeting on Saturday to go over their recruiting board, narrow the scope of who they're targeting and prepare for next weekend (Jan. 25-27), when the Seminoles are expected to host about a dozen official visitors — the Seminoles have at least done well to lighten their workload down the stretch. In the past two weeks, the Seminoles managed to get elite cornerback recruit Akeem Dent on campus for the spring semester and then locked down four-star corner Travis Jay after rival Florida made a hard push.
Yes, there's still significant work to be done in order for FSU to hit key needs in this class, but it finally has had some positive public developments following a 5-7 season and a rough go of the early signing period (QB commit Sam Howell ended up flipping to UNC, OT Charles Cross flipped to Mississippi State and four-star OL Will Putnam chose Clemson). Solidifying arguably its two most important recruits and freeing itself up to prioritize other targets is a positive development for FSU.
Critics will point out that the two recruiting wins were keeping players who are already committed. They'd be right, to an extent. FSU still needs to add players at positions of major need (i.e. offensive line and quarterback) and must fend off programs making late runs at commits like S Nick Cross. FSU's options at those positions of need are relatively scarce as the Seminoles will explore JUCO and grad-transfer options along the offensive line, and they'll likely be in battles with a handful of QB-needy teams for targets like Lance LeGendre and John Rhys Plumlee. This class will ultimately be defined by the ability to get short-term and long-term upgrades at these spots, as well as linebacker. We'll see how the next couple weeks shake out in hitting those needs, but there's little margin for error.
Given a turbulent season in which the Seminoles experienced their first losing record since 1976, there's something to be said for Willie Taggart and Co. keeping top recruits in the fold. Dent and Jay are arguably the two best recruits in this class, and they're both capable of playing immediately at FSU. Dent is considered a culture changer given his fiery attitude and confidence, while Jay has been a do-it-all playmaker and leader for a Madison County team that won back-to-back state titles.
Now, FSU has to build off the recent stretch of positivity on the recruiting trail. Jay will be among the FSU commits taking official visits next weekend, and Dent should be on campus to help recruit for the Seminoles. With four-star prospects like LB Shammond Cooper (Illinois commit), DE Charles Moore and QB Lance LeGendre expected to visit, having elite prospects in place to express their confidence in FSU's future is key.
And while the first full year of the Taggart era hasn't gone as planned, it's worth noting that Taggart has shown he can close on the recruiting trail. He did so when he first arrived at FSU by getting blue-chip safety Jaiden Woodbey to flip from Ohio State in about a week during the early signing period, and he then had a strong finish to the 2018 recruiting class by beating out rivals for commits like DE Dennis Briggs, DE Xavier Peters and DT Jamarcus Chatman. There's reason to be critical of FSU's on-field production in Year 1 under Taggart, and that has hurt FSU on the recruiting trail, but Taggart is a proven closer based on his body of work so far.
With a little momentum in FSU's favor, let's see if Taggart can again close at a high level as the 2019 recruiting cycle winds down.