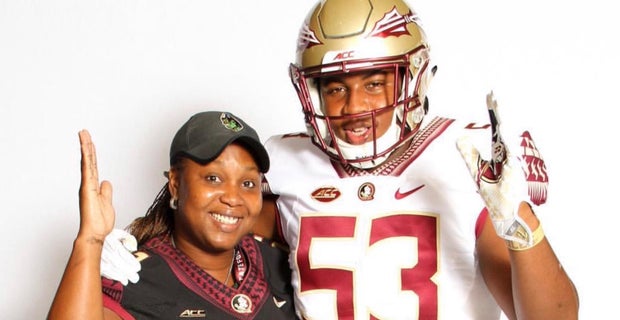 Boston College three-star offensive center commit Maurice Smith visited Florida State this weekend for his final official visit before signing day on Wednesday. The Miami Central (Fla.) prospect arrived on campus on Thursday and left early Sunday morning. He gave Noles247 a full recap of the visit.
"It was a great visit," Smith noted. "Those were some great coaches. Some of the coaches I didn't know. Coach Taggart, he's a great coach. He's a cool dude and he believes in me. He feels that I can make a difference in the program."
On Saturday, Smith and Taggart sat down for a meeting in which they discussed the goals of the program and how Smith could help achieve those goals if he were to sign with the 'Noles.
"The main thing he was telling was to join the program and to make it great again," Smith recounted on his talk with head coach Willie Taggart. "Let's get to that national championship like we need to. He wants and loves Dade County guys like me. He says he wants me to come in and start and set the tone. From there it will be history."
An offer from Florida State came less than a month ago for Smith. Nevertheless, Dade County area recruiter and tight ends coach Telly Lockette and offensive-line coach Greg Frey were able to get him up for a visit on the final weekend before the early signing period. He spent a great deal of time with them.
"Coach Telly Lockette and coach [Greg] Frey they were both great to me this weekend. Coach Frey, he's a very great coach. You can tell because when he sits down to talk about football, he gets very serious about it. No joking around when it comes to football."
Smith is being recruited by Florida State as a center prospect. At his school, he is very versatile, moving all over the line. Coach Greg Frey plans to get him in and put him in the weight room from the moment he steps on campus. That would be the main focus in getting Smith ready for college football.
"He wants me to come in and execute. Wants me to get stronger and bigger. From day one, I've got to get bigger and I'll be straight from there. He says I have all the fundamentals and technique down I just need to get stronger and I'll go from there."
Along with the coaches, Smith spent a ton of time with over a dozen others visitors; which included many Florida State commits.
"I had a great time with all of the recruits and the commits. It's just been a great visit. One of the best visits I've been on. Had a lot of fun."
Both Miami natives, Smith and FSU four-star OL commit Dontae Lucas have known each other since they were very young. Lucas was actively recruiting Smith throughout the entirety of the visit.
"Dontae [Lucas] is my homeboy, they call him 'the Pope.' Since the 10th or 11th grade, he's always said that one day we should play football together. He telling me this whole weekend that we should make it happen; we could play next to each other."
Smith was receptive to Lucas' message but still has a final decision to make between Florida State and Boston College on signing day.
The itinerary for the weekend was jam packed with all sorts of dinners, photo shoots, get-togethers and more. Smith had a couple favorite moments over the course of the weekend.
"The best part was hanging with all of the commits and recruits. We hung out after dinner. We just chilled and hung around. That was the best part to me, just chilling and bonding."
After we brought up the paintball event, Smith changed his favorite moment from the weekend.
"Paintball was very fun. Actually that was kind of the best part. We had so much fun playing paintball with each other in the woods. That was a great time. It was mostly o-line and d-line on one team and the skill guys on the other team. Our lineman team always won."
Now that the visit is over, Smith isn't sure what school will land his commitment when pen meets paper on Wednesday. He's been committed to Boston College since the end summer this year. Florida State gave him something to think about.
"It's 50/50. I don't really know where I am going right now. I'm just thinking right now."
A final decision will come on Wednesday at around 9 a.m. at Miami Central High School. Noles247 will likely be on hand for the event.
Smith ranks as the No. 1492 prospect and No. 76 OG in the nation according to the 247Sports Composite Rankings.